October 16/05 - new reviews... and the follow-up to RSZ!
Reviews continue to pour in for RSZ - some like it, some don't get it, but all appreciate the crazy zany b-ness that is RSZ! Click the links above to check 'em out (they're sorted most recent to oldest).
Also, the planned sequel to RSZ has taken a backburner to Dancing Monkey Productions' first feature film, THE MUFFIN MAN - click here to visit the site!

---
August 6/05 - 2 more festivals to screen the mighty RSZ!
That's right folks - not one, but TWO festivals abroad are going to be subjecting RSZ to unsuspecting audiences made up of the Queen's loyal subjects!

First up (on August 19th) is Tromafling in Edinburgh, Scotland - TromaFling-Independent Film Festival is dedicated to bringing art to the people. Set to run during Edinburgh's well known festival season August 17-28th 2005 (alongside the Edinburgh Internetional Film Festival), TromaFling aims to provide a space to celebrate real independent cinema, free from the exclusive pomposity of more mainstream festivals.


Next up is the Leeds Anime Horror Film Festival in Leeds, England on October 30th (more info coming soon).

---
April 30/05 - RSZ to screen at the 1st CAFF!
The little film that could continues to chug along and has been selected to screen at the first-ever Calgary Asian Film Festival! Alongside many local, national and international productions, RSZ will screen to another audience unaware of the on-screen carnage they are about to bear witness to!
The 1st Annual Calgary Asian Film Festival (CAFF) takes place May 20-23rd and is dedicated to showcase the rich diversity of Calgary's many Asian cultures through the medium of film and digital media. One of the goals aims to bridge the Calgary communities by fostering discussion, network resources, and showcasing the dynamic possibilities of Asian Cinema. CAFF encourages all film enthusiasts over the age of 18, Asian and non-Asian, and from all walks of life, who are eager to learn, network and willing to share their multi-faceted cultural experiences in a positive environment.

---
Oct 28/04 - another festival to screen the mighty RSZ!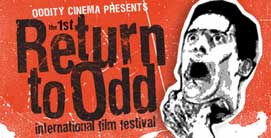 That's right folks - the festival appearances keep on coming for the ever-popular RSZ! Edmonton's excellent
RETURN TO ODD International Film Festival
has deemed RSZ worthy of its short film line-up, so if you're in the Edmonton area, be sure to make an appearance Halloween night!
---
Oct 25/04 - great article on RSZ!
Local Calgary arts newspaper BEAT ROUTE has published a fantastic write-up on RSZ in its October 2004 issue. Writer
Ryan Cracknell
did a bang up job on nailing the inner beauty of RSZ and you can
read for yourself by clicking here!
---
Oct 19/04 - another festival to screen the mighty RSZ!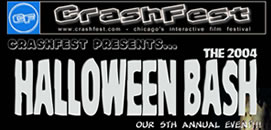 ... and ANOTHER fine festival has selected RSZ for it's featured line-up:
Chicago's Crashfest 2004 Halloween Bash!
Screening to take place October 30th at Chicago's The Anteroom -- so if you're in the fine state of Illinois, be sure to attend!
---
Oct 2/04 - RSZ kicks ass at the CIFF!
Woo-hoo - it's now the day after the biggest screening of RSZ yet: the midnight crowd at the Calgary International Film Festival! Maybe 200-odd people (maybe more!) showed up to feast their eager eyes upon the RSZ & Harry Knuckles 1-2 combo - and everyone seemed absolutely delighted! Of course, we were honoured to have our movie screened alongside Lee Demarbre's soon-to-be cult classic
"Harry Knuckles & The Pearl Necklace"
(click for more info) and we hoped that the audience would be similiar for both films - and our hopes were realized when the entire audience clapped, cheered, laughed & groaned at all the appropriate places during RSZ! Fantastic, absolutely fantastic.
Huge thanks to both the Calgary International Film Festival and to Lee Demarbre for making this dream a reality! Enjoy some pics below (click thumbnail to view fullsize photos).
---
Sept 13/04 - RSZ to screen at ANOTHER festival!
That's right folks - the good news keeps on coming in! We found out today that RSZ has been named one of the "official selections" of this year's CALGARY INTERNATIONAL FILM FESTIVAL! Easily one of Canada's premiere festivals, with an expected attendance of 40,000 (!) people this year, the CIFF is a fantastic venue for more unsuspecting viewers of the greatest kung-fu zombie flick since... well, ever!
Click here for more details!
RSZ will be screening FRIDAY, OCTOBER 1st at MIDNIGHT at the Uptown Theatre as part of a special double-billing with "Harry Knuckles & the Pearl Necklace" from Odessa Filmworks (creators of "Jesus Christ Vampire Hunter") - what a perfect pairing!
---
Aug 11/04 - another festival to screen RSZ!
Hi folks - been awhile since we had the last update, but got some great news to share: RSZ has been selected to screen at this year's TROMADANCE NORTH Festival in Winnipeg Beach, Manitoba! That's right - Tromadance as in Toxic Avenger, Sgt. Kabukiman, and more - and now RSZ is going to shine alongside other great independent cinema for b-movie fans flocking to this fine Canuck festival! The festival is a 2 day affair (Aug. 20th & 21st) and RSZ is part of the line-up on the 2nd night (Aug. 21st), recommended for 16 years of age or older *insert ominous music here* - hopefully everyone attending gets a kick out of our favourite ass-kicking kung-fu zombies! For all the details, check out the
TromaDance North web site
!
In other news, RSZ DVDs continue to sell all over the world - U.S., Canada, UK, Germany, Wales, Australia, and other fine places - thanks for your support!
---
May 16/04 - great turnout for RSZ's theatrical debut
Thanks to the kind folks at the Plaza Theatre, ROTTEN SHAOLIN ZOMBIES was finally able to be seen on the big screen - and over 100 Calgarians stuck around after the late showings of "World's Best Commercials" on Friday & Saturday night to see what a crazy idea, some talented folks, and a whole lot of dyed corn syrup can give you! About 50-60 per night stayed after 11:00pm to watch, and we only lost 8 people during the showing! (they walked out during the spine-ripping & puke-eating scenes - go figure!) RSZ stars Wilson Wong, Wil Yee & Anders J. Svensson even turned out expecting a red carpet and throngs of autograph seekers, but they had to settle for laughing & applause (not such a bad trade off!)
Thanks very much to everyone who turned out (and especially the guy who stuck around Friday night to buy a DVD copy!) and stay tuned for future showings!
---
May 1/04 - theatre screening!
Woohoo - finally, we're going to get to see RSZ up on the big screen!
The Plaza Theatre
(in the lovely Kensington area of Calgary) will be screening ROTTEN SHAOLIN ZOMBIES May 14th & 15th after their 9:00 showings of Cannes Lions World's Best Commercials! A whole new legion of RSZ-ites will be created from these presentations - be sure to come on out!
---
March 23/04 - random notes
New review online -- Upcoming Horror Movies

I got in a request from a horror film festival in Germany to submit RSZ, so I'll be doing that this week!

Finally, finally, RSZ is listed on the Internet Movie Database! Click here to check out the listing (note that information is still being added and is not yet complete)
---
March 21/04 - RSZ to screen at its 1st festival!


That's right -- ROTTEN SHAOLIN ZOMBIES has been accepted into its first festival - the STRANGE NIGHTS OF CINEMA (Les Etranges Nuits de Cinéma), taking place April 8th-11th in la Chaux-de-Fonds (Switzerland)!

Very very excited that an international audience will now be subjected to the visual glory that is RSZ! To check out their site (in french), click here -- or you can click here to check out a (poorly) translated version of their site, courtesy of Alta Vista's Babelfish...
---
Feb 20/04 - 2 more reviews!


Feedback is still coming in and people are loving RSZ! Chainsaw Fodder posted a great review and B.M. from Las Vegas had this to say:

Gotta tell you, that was pretty tight. As a Huge horror fan aannnddd a huge cheese fan, I loved it. When the fish jumped off the plate to bite my man in the eye, I was cracking up. When I saw the strings holding the fish up though, My girl and I were rolling on the floor. That was a real honest piece if work and you sold it for what it was. I'm glad you put in the credits who the jackalope wrangler was because that was bothering me all through the entire film LOL. I'll make you a deal though, i'll buy ten copies of the sequel (there's gonna be a sequel right? So many questions left unanswered LOL) if you never let Wil Yee sing again for the rest of his life. I'm still taking Ibuprofen every four hours to relieve that headache Haha. Seriously though, I enjoyed it and if you do a sequel, you already have one sold.
---
Feb 20/04 - sales update & an interview!


Orders continue to pour in for the RSZ DVD -- San Fran, Las Vegas, Quebec, Toronto... people from all over the globe (well, at least the continent) are curious to see what singing kung-fu zombies can deliver! Thanks for all your support...

After posting a great DVD review on their site, Late Nite Theatre interviewed Writer/Director Blaine Wasylkiw about RSZ -- click here to read the interview!
---
Feb 17/04 - Another great screening & more news plugs!


Yesterday over 90 people attended the 4 screenings of RSZ and everyone seemed to really enjoy the spectacle on the screen! (well, except for the elderly lady in the front row who kept covering her eyes whenever any bodily fluids would appear). Thanks very much to Calgary Society of Independent Filmmakers for the venue and to the folks behind "Stupidity: The Movie" for the exposure (in letting us piggy-back with your screenings) -- another great day for RSZ!

Also, found some more RSZ coverage by some great online publications: Chromehenge BBS and The Monster Club -- thanks very much!
---
Feb 15/04 - RSZ trailer added to site!


That's right folks -- finally, there's an official trailer for this spectacular campy gorefest! Click here to view! (Quicktime required)
---
Feb 14/04 - more links!


The press continues for this lil' gem of a b-movie: FFWD Weekly (Calgary arts & entertainment newspaper) did a nice little piece on the movie as did the zombie-rific AllThingsZombie.com! (3rd item)
---
Feb 8/04 - more links, more sales!
The emails continue to pour in -- people ordering copies of the DVD and other sites (graciously) linking to this very web site! Latest one? HorrorFind.com!
---
Feb 5/04 - RSZ on Fangoria.com!


Wow -- RSZ now has a write-up on THE Fangoria.com! Click here to check it out! Thanks very much Fangoria!

UPDATE: Holy cow - the write-up on Fangoria.com has really attracted a lot of interest (AND dvd sales!) in RSZ - that's great! Another online publication has posted a profile as well - click here for check out what ohmygore.com had to say!
---
Feb 3/04 - Upcoming Screenings!


That's right folks - if you missed your chance to see the debut screenings of RSZ, now you can make amends!

The kind folks at Calgary Society of Independent Filmmakers have graciously added RSZ as a double-bill on the holiday Family Day showings of "Stupidity: The Movie". This is a fundraiser for the upcoming $100 Film Festival, so there is an admission cost ($8 adults, $7 students & youth, $6 seniors & ACAD students), but you get to watch not only ROTTEN SHAOLIN ZOMBIES, but also "Stupidity" and some "Trailervision trailers" - whatta deal!

So come on out on Monday, February 16th to CSIF - located at Building J2 (The Currie Barracks SW - click here for map) for one of the 4 (yes, 4!) showings of RSZ & Stupidity: 1:10, 3:20, 7:10, 9:20. We had over 100 people show up for our debut evening of screenings, so hopefully we can do the same for this fine Family Day of Zombies & Stupidity!
---
Jan 26/04 - RSZ Premiere Screening(s)!


We thought we were in for a lonely night when the weather dipped below -40°C in lovely Calgary, but lo and behold we had OVER 100 BRAVE SOULS show up to check out the premiere screenings of Rotten Shaolin Zombies! It was unbelievable -- cast, crew, families, friends and total strangers off the street came in to bask in the cinematic glory that is RSZ and all seemed very entertained and grossed out -- victory is ours!!

But seriously - thank-you everyone who came out to support our lil' movie and thanks for your enthusiastic response - there are more screenings planned for the near future, keep checking back for details!
---